Once again, we find the wife and I at Hope Valley Campground, space 19. We had a dual focus this weekend. First to hang out and eat good. Second to do the maiden voyage of the Inflate-a-yak. You know, that Sea Eagle 370 custom inflatable 12'4" Kayak we bought last year.
We arrived Friday afternoon just before 2:00 pm and set up camp.
Camp
Now, you might notice that this is a picture from last year because I thought, "I already have pictures of the camp site, why take more?" That's why the truck is my old Chevy.
Across the road where the West Fork of the Carson used to be, OK it's still there, almost, and if I was a trout I wouldn't live in that water. It was warm, green, and generally not moving at all.
Across the road
On the other hand, I did get a couple shots of the sunset on Friday night, so enjoy.
Make it big, it looks prettier
This one too
Saturday morning on a trip over to the trash can (this is exciting stuff, huh) I came across this mushroom. Went back to the truck, got the camera, and snapped a shot. Sunday morning there about a dozen there. Mushrooms were sprouting out all over the place. Being mushroom ignorant, they stayed right where they were.
Some kind of mushroom
So, put the wife into the truck and headed for Upper Blue Lake. I want to note, at this point, that I
did not
take a fishing rod on this trip because launching the Inflate-a-yak and getting my better half a little training on kayak paddling was my main focus and I didn't want to be sidetracked by some big Rainbow Trout biting the lure I would have been dragging behind.
We got to the lake, did the "blow up the kayak" thing and plopped ourselves in and started out across the lake.
Second note, when I realized my camera was in the truck, which was parked a good two blocks away from where we launched, there weren't going to be any pictures. So if you want to bail at this point I won't hold it against you.
We made it across the lake, turned toward the far end of the lake, and headed that way. did I mention the wind was blowing? Once again the weather guessers (who said there wasn't supposed to be any wind) were wrong. During the crossing, we did do a couple, OK maybe six or eight 360's that I'm sure was caused by that aforementioned wind. I doubt it could have been our paddling ability.
Once we got about 3/4 of the way to the other end, we decided that that was far enough and with the idea that we would still be able to pick up a fork and have dinner that night (arm muscles, you get it), we turned around and headed back. While Katherine went to get the truck, I deflated the yak and by the time she got back, pictures just weren't in the cards. I promise pictures at Upper Lake next month.
Yes, we've been able to eat, but just barely. Arm muscles are sore, all those other muscles connected to the arm are sore, but we had a good time and feel confident that Upper Lake will be a lot of fun. Besides that was the lake we originally bought the inflate-a-yak for.
Here, we almost looked like this although you'll never find us with matching clothes.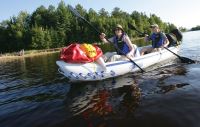 Sea Eagle 370
Back to fishing this week.