If you've been watching the news, then you know Northern California has been getting hammered with rain and snow since, seems like forever.
We are in the grips of another El Niño. Lots of rain, lots of snow, and lots of flooding. The interesting part is that although Sacramento and points North are pounded, we (in beautiful downtown Jackson, about an hour South of Sacramento), have gotten very little rain.
Our Chief Weather Guesser drew a picture on a map about a week ago and put two lines on it. One just below Sacramento and the other about 50 miles North. That was where the rain was supposed to hit and hit it did.
As of yesterday the Russian River up in Sonoma County is over it's banks. Guerneville has been evacuated. Cache Creek is over it's banks. Closer to Sacramento, Dry Creek (North of town), Acrade Creek (in town), and that ever present flooding of Deer Creek when ever we get a little rain is happening.
Guerneville
Fear not, La Casa Kautz is high and dry.
The mountains, that's another story.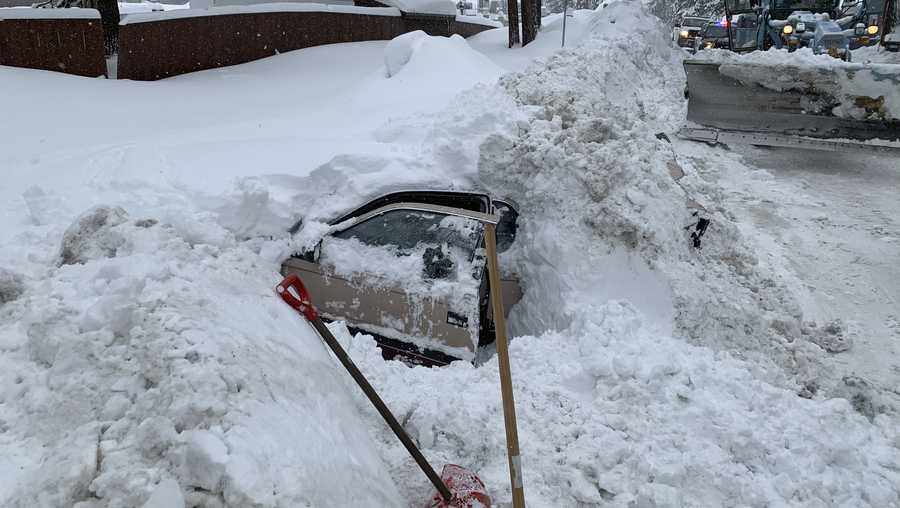 South Lake Tahoe
Here's the story behind this picture:
This Feb. 17, 2019 photo provided by City of South Lake Tahoe shows a car buried in snow in South Lake Tahoe, Calif. Authorities say a snowplow operator inadvertently bumped into a car buried in snow and found a woman unharmed inside.
Cisco Grove on Highway 80 (Elevation 5643') looks something like this:
Gas Station
I couldn't find a picture, so you'll have to use your imagination. At Cisco Grove there is also a Chevron Gas Station. You've all seen the Chevron sign at the stations, right?
This one
At Cisco Grove this morning the snow is at the bottom of that little red V. What, maybe 15 feet?
Can you imagine what Donner Summit (Highway 80) and Carson Pass (Highway 88) look like? Donner is just over 7000' and Carson pass is 8652'. Both Donner Summit and Carson Pass have been closed for the last day or so. Cal Trans is just trying to clear the roads.
Still, this morning, it's raining here and snowing upcountry. The snow pack is currently 150% of average.
Going to be an awesome Summer. Plenty of water everywhere.
Last, but not least is Folsom Lake. Folsom Lake is a flood control lake. Keeps Sacramento from flooding. In the past I've shown you the dam at Lake Natoma just downstream from Folsom Lake. When we fish for Shad in May/June we hope for a release of 5000 cfs. Currently the release is 25,000 cfs. A lot of water going down the American River. Folsom Lake has a capacity of just over 1 million acre feet of water. Needless to say the water is going out as fast as it;s coming in.
Summing up the situation, South of Sacramento, we're in good shape. Sacramento North, think boat.
Oh yeh, I sent an email to Yuki yesterday and asked if he thought we would be able to get out fishing any time soon. He was right to the point. He texted back No.
I do believe I'm going to get out tomorrow and soak some Power Bait. Rain due again Saturday and most of next week.
Stay Tuned.